Harel Mallac makes Xerox MPS in Mauritius
Posted on : Friday , 1st April 2016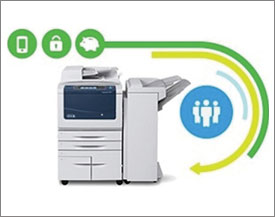 A long-term Xerox partner and Mauritian print solutions provider Harel Mallac Burea-utique (HMB) has further enhanced its value proposition by investing in the necessary skills to achieve Xerox Managed Print Services accreditation. The certification is provided by Bytes Document Solutions (BDS), the largest Xerox distributor globally which operates in 26 African countries.
BDS regional manager Olivier Merven says the Xerox MPS accreditation process is strictly controlled to ensure that qualifying partners offer the correct skillsets, robust processes and a commitment to consistent service delivery. "It is this rigour and an onerous accreditation process which has made the Xerox MPS value proposition highly attractive. By completing the accreditation, HMB has demonstrated its ability to deliver for its clients in the Mauritian market."
HMB manager Dany Blackburn notes that the company has worked with and promoted Xerox for over 45 years. "MPS was a must to gradually move our organisation from 'box moving' to the delivery of higher-value solutions and services to our clientele," he says.
A Xerox open day was held at the Hennessy Park Hotel in Mauritius on Friday the 26th February 2016.
Source : www.printweekmea.com