Kenya Set to increase Agriculture yield With Dutch Partnership
Posted on : Thursday , 4th February 2016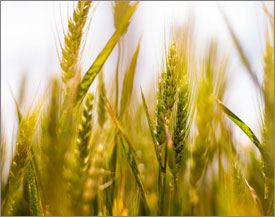 Kenya's agriculture sector, which currently contributes 15 percent to the country's GDP, is set to increase its output with the country's planned collaboration with The Netherlands' government. This is as the two economies, which have enjoyed mutually beneficial cooperation in the past, have resolved to move away from aid development and focus instead on trade.
"As the Dutch embassy, we have taken a decision that the country, as a lower middle income country, is not best served by handouts; we feel that our relationship with Kenyans should be more mature to move from being a donor recipient to a trading partner," said Melle Leenstra, Food and Security Development Adviser, Netherlands Embassy.
"We are trying to improve Kenya's horticulture sector in three thematic areas. We want to help with food safety through correct use of pesticides, reduction of post-harvest losses and also help small to medium farmers to gain access to markets," he said.
Leenstra said the Dutch spend about €5 million annually in the Kenya's agriculture sector and hoped that through this investment the two economies would build sustained relations and create deeper impact, adding that the two countries were combining trade and development to ensure interests of both parties are met.
Kiringai Kamau, adviser to Kenya's Ministry of Agriculture, Livestock and Fisheries, said the movement from aid to trade meant stopping development support through concessions and rather doing inter-trade between the two countries.
"The Dutch government has been supporting the Kenyan government through aid; they want to move that to ensure it supports the country through trade. Dutch enterprises will be supported and facilitated by their country," he said, adding that the Kenyan government was committed to making sure that doing business in Kenya is smooth.
Kenya's central location in East Africa has been attractive to Dutch investors over time. In 2011 the volume of trade (total imports and exports) between Kenya and the Netherlands was more than €852 million, up from €700 million in 2010. Important Dutch export products are services, chemicals, machinery, transport equipment and engines while major imports from Kenya are horticultural products, flowers, tobacco and raw materials. The Netherlands is the third export market for Kenya.
Dutch private investment in horticulture has led to the emergence of a large competitive horticultural industry (flowers and vegetable production) which contributes to more than 14 percent of Gross Domestic Product (GDP). In recent years, there is growing Dutch investment outside the traditional horticultural sector, e.g., renewable energy, water and sanitation, infrastructure, logistics, ICT, and financial services.
Stefan Engels, Team Leader at Hortimpact, said partners within the agricultural sector were doing their part. He therefore called on the government to create an enabling environment.
"The government can do a lot in creating an environment that allows easy investment and business," he said.
Source : footprint2africa.com