Surface Wilmar to invests $15 million in infrastructure development
Posted on : Monday , 18th January 2016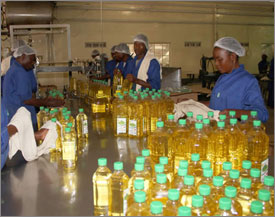 Surface Willmar, the manufacturer of Pure Drop cooking oil, has rolled out a $15 million investment package towards setting up a refinery, bottling facilities and an upgrade of storage facilities.
Surface Wilmar chief executive Sylvester Mangani told The Herald Business during a tour of the company's facilities that they have plans to become one of the biggest cooking oil manufacturers in the world.
"We are already topping $15 million for expansion of three projects and these projects include a bottling line, a refinery and an upgrade on the storage facilities for crude oil.
"Already we have the largest silo seed in Southern Africa and we have capacity to process 600 tonnes per day of soya beans," said Mr Mangani.
Surface Wilmar (Pvt) Ltd is a joint venture between the Somani family, Wilmar International Ltd and the Government of Zimbabwe through the Industrial Development Corporation.
Mr Mangani said Surface Wilmar has plans to become a dominant player, from being the largest oilseed processor in Zimbabwe to the largest oilseed processor in the region.
Surface Wilmar last year acquired 49,3 percent shareholding in Olivine Industries which was previously owned by AICO Africa now Cottco Holdings. This was part of its expansion strategy in both Zimbabwe and the region.
As the largest oil manufacturing companies in Zimbabwe, Surface Wilmar brands hold a significant market share of refined edible oils supplying an excess of 60 million litres a year of high quality cooking oil.
The company also manufactures high grades of soya bean meal, cotton seed meal and hull pallets.
These quality products meet local and regional needs of the animal feed manufacturing industry.
Other by-products including linters, acid oil, and soy lecithin are exported into the global marketplace.
Surface Wilamar's infrastructure includes a world-class multi-oil seed processing plant with crushing capacity of 600 tonnes per day, a technologically advanced edible oil refinery of 120 tonnes per day, a PET bottle moulding plant and a fully automated packaging plant for refined edible oil and its derivatives.
Source : www.herald.co.zw