Foreign Player Seeks a lot of Profits In Nigeria's Flour Market
Posted on : Thursday , 14th January 2016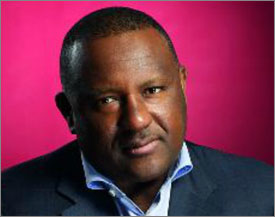 A Singapore-based agriculture company has acquired one of Nigeria's larger flour producers for $275 million, putting it on course to become Nigeria's second-largest flour producer, VenturesAfrica reports.
Olam International Ltd. bought BUA Group's wheat-milling and pasta-manufacturing assets - a move that will nearly double the Singapore-based company's sub-Saharan daily milling output to 7,640 metric tons by June.
BUA was founded by Abdulsamad Rabiu, Nigeria's fourth-richest billionaire, net worth: $1.02 billion, according to Forbes.
BUA Group is a conglomerate that also does business in sugar refining and cement production. In September, BUA signed a $600 million deal with Sinoma International Engineering, a Chinese cement equipment and engineering service provider, to build a second production line at its Obu cement plant. Rabiu wants to double capacity and expand BUA's current 10-percent market share in Nigerian cement, Forbes reported.
Nigeria's flour industry has attracted outside investment due to heavy demand for bread and other flour products from the country's 100 million-plus people, VenturesAfrica reported.
The Nigerian flour market is worth around US$2 billion a year and is growing at 3.5 percent a year. The pasta market is growing at 8 percent a year, VenturesAfrica reported.
Flour Mills of Nigeria has around 38-percent market share and has Nigeria's largest milling capacity. Other main industry stakeholders include Dangote, Honeywell, Standard Flour Mills, Crown Flour Mill and BUA, according to AEGIC.
Despite its attractiveness, the market has been a difficult one for foreign companies. The two top producers control more than 75 percent of the market, VenturesAfrica reported. Consumers have strong brand loyalty along regional lines.
Earlier this year, South Africa's largest food company, Tiger Brands, wrote off about half of its $190-million investment in Dangote Flour Mills less than two years after buying a 63.5-percent stake in the Nigeria-based company, BusinessDayOnline reported.
Africa's second-largest consumer food maker, Tiger Brands struggled to make money out of Dangote Flour Mills in the face of tough competition and weak margins.
In November, Tiger Brands wrote down the full value of Tiger Branded Consumer Goods, a separate business formerly known as Dangote Flour Mills, and Deli Foods, by $126.4 million, AFKInsider reported.
In December, Tiger Brands agreed to sell its 65.7 percent stake in its unprofitable Nigerian business to Dangote Industries Ltd. for $1. Dangote Industries is run by Aliko Dangote, Africa's richest man, net worth: $16.5 billion, according to Forbes.
Olam is in the process of building a new milling plant in Port Harcourt which will make it Nigeria's second-largest flour producer, VenturesAfrica reported. The BUA acquisition follows Olam's 2010 purchase of Crown Flour Mills in Nigeria for $107.6 million.
Olam currently owns two wheat mills and a pasta manufacturing facility in Lagos and a non-operating mill in Kano state. Olam has other businesses in other sub-Saharan African countries including Ghana, Senegal and Cameroon as well as businesses in 70 countries globally supplying a variety of agricultural products.
Olam will help create jobs, diversify BUA's business, stimulate the Nigerian economy and support the government's plan for agriculture and extractive industries, Rabiu said, according to VenturesAfrica.
Source : afkinsider.com