Malawi Starts solar powered irrigation
Posted on : Thursday , 14th January 2016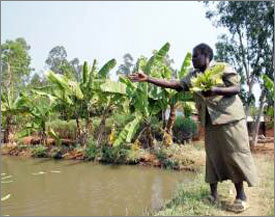 Malawi has begun solar-powered irrigation in arable land expanses along the Lake Malawi
Malawian minister for agriculture irrigation and water development Allan Chiyembekeza said the ministry is implementing the country's first ever irrigation and investment master plan that was launched formally in September 2015.
The main solar-powered schemes include Chitindi, Lemero and Ndembwera, constructed using resources amounting to US$93mn from the Climate Adaptation and Rural Livelihoods in Agriculture Project (CARLAP).
"I am impressed with the new schemes especially the solar irrigation system which is very suitable for areas along the lake due to hot weather conditions," said Chiyembezeka.
However, the minister added that the private sector involvement was essential to make the initiative bigger.
Another rising concern is the drying up of the Malawi lake bed, which has placed more emphasis on alternative forms of irrigation such as solar-powered. Concerns were heightened after some farmers lost around 200 hectares of rice, as a result of the drying up of the Lufily River. Chiyembezeka urged the residents to embrace new irrigation methods in a bid to save their crops and livelihood.
Source : www.africanfarming.net