Irrigation project to come up in Rwandan province
Posted on : Monday , 27th July 2015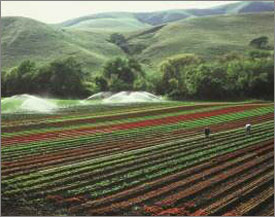 The government of Rwanda and Howard G Buffett Foundation have signed a US$24mn partnership deal to fund the development of irrigation infrastructure in Kirehe district in the country's Eastern Province
The project is set to start next week over 1,280 ha of land in the Nosha sector of Kirehe district. The area is drought-prone and therefore makes for an ideal site for the project that will provide water for irrigation to farmers.
Dr. Geraldine Mukeshimana, the minister for agriculture and animal resources said that the project was a part of efforts to promote sustainable agriculture to boost crop output. She added said the project involves construction of a 3MW solar plant to power the water pumping station and is expected to be completed in Q1 2016.
There is another big irrigation project coming up in the district, in the Mahama and Mpanga sectors. Covering 9,000 ha of land and worth about US$94mn, the project is due for commissioning next year. It is being implemented by WAPCOS, a water resources development and management firm under the purview of India's Ministry of Water Resources.
Eric Rugambage, a maize farmer in Mahama sector in Kirehe district told Kigali-based The New Times that the upcoming irrigation facilities will ease access to water for crop and animals, which will enhance the sector's productivity and ensure food security.
"Most areas in Eastern Province and Kirehe in particular always experience long drought spells that affect crop production and household incomes. Therefore, these irrigation projects are a timely intervention that will change farmers' fortunes," he said.
Rwanda's irrigation master plan targets about 40,465 ha of potential irrigation areas. About 500 small irrigation schemes are being developed in water deficient areas, including other districts in the Eastern Province.
The country received a US$120mn credit line from Export-Import Bank of India earlier this year to fund export-targeted crop irrigation projects.
The Howard G Buffett Foundation is also supporting the establishment of a new agriculture institute in Rwanda.
Source : www.africanfarming.net