PEPZ promotes local procurement in Zambia
Posted on : Monday , 4th January 2016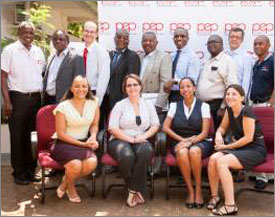 Leaders of Zambia's largest and most economically important companies met recently to discuss how they could increase their business with local suppliers in the country
CFAO, Chibuluma Copper Mines, First Quantum Minerals, Shoprite Zambia, Spar Zambia, Total Zambia, Zambeef and Zambia Breweries (SABMiller), along with the Fresh Produce Export Growers Association (FREPEGA) and the Zambia Development Agency (ZDA), took part in the meeting and agreed to form a steering committee to work on initiatives that will identify local procurement opportunities and make them more accessible to local small and medium-sized suppliers.
As the largest buyers of goods and services in the private sector, these companies believe that by working together to share knowledge and experiences they can make a significant contribution to growing the Zambian economy and to saving and creating jobs through increased local procurement.
The steering committee will provide the necessary strategic guidance and leadership in advocating and propagating good practices within the corporate sector and in their supply chains that will further open up opportunities for local suppliers.
The formation of the steering committee was facilitated by and operates in partnership with the Private Enterprise Programme - Zambia's (PEPZ) Business Linkages Programme (BLP), which also provides technical assistance support to qualifying suppliers to improve their capacity to take advantage of these opportunities.
"The goal of the Business Linkages Programme is to facilitate and create a model for trans-national and national corporations doing business in Zambia to actively engage in promoting targeted local sourcing, matchmaking and local supplier development. Among the initiatives we hope to see is an annual business opportunity fair and workshops focusing purely on local sourcing and matchmaking," said PEPZ team leader Bayo Akindeinde.
Zambia Breweries head of procurement Colin Ogilvie, was elected chairman of the committee, which discussed strategies to promote locally-driven supply chains in order to bridge the gap between large corporations and suppliers across various sectors.
Source : www.africanfarming.net