Tata subsidiary to increase exports of pulses from Tanzania
Posted on : Thursday , 31st December 2015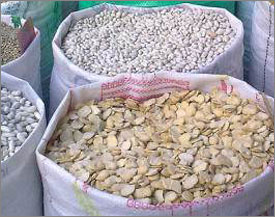 Tata Africa Holdings (Tanzania) Ltd has plans to increase exports of pulses to India
The company, a subsidiary of Tata International, began exporting pulses from Tanzania around a year and half ago. So far, has achieved an export volume of 5,000 tonnes of pulses and now plans to scale up the business, mainly because India experiences a shortfall.
Tata Africa Holdings (Tanzania) Ltd executive director Ajay Mehra said, "We are now exporting pulses (tur dal) from Tanzania, which are well accepted in India. We are working with farmers to help them improve productivity."
Tata Africa Holdings (Tanzania) Ltd will invest in procurement centres, processing plants, cleaning plants and even pre-packaging facilities.
Mehra revealed that aside from pulses, the company is also exporting cashew, sesame and coffee from Uganda. The company's goal is to focus on four key commodities initially, before moving on to other products like cocoa and rice.
Specifically, India and China are good markets for African food commodities, stated Mehra. Eventually, more countries will be part of the export plan as the company now operates in 12 African countries.
The company's African business constitutes about 25 per cent of Tata International's total turnover, with agri commodities expected to bolster growth in the coming years.
Source : www.africanfarming.net