Goldenlay Agri Limited to build poultry processing unit in Zambia
Posted on : Tuesday , 22nd December 2015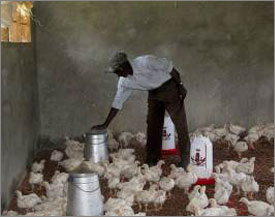 Zambian company Goldenlay Agri Limited is planning to build a poultry processing plant in Luanshya for US$560,000
The chicken processing plant will be set up in the Kafubu Farm in the Luanshya town, where spent hens will be slaughtered and processed. Spent hens are egg-laying birds that are no longer profitable commercially, and are used for cheap meat following the end of confinement as a result of producing eggs in battery cages.
The company has plans to increase the capacity of poultry production to one million birds, for the production of eggs at Kafubu and Baluba farms, stated an Environment Impact Assessment (EIA) report submitted to the Zambia Environmental Management Agency (ZEMA). This will lead to an increase in the number of spent hens, which will be deboned and slaughtered, said the company.
The project is expected to span 20 years, to include construction of the facility as well as a chicken processing plant shed, installation of a 750kV transformer, effluent management, waste disposal and cold storage infrastructure.
Other project components to be built include the bird reception area, cooling units and ammonia plants, effluent treatment plant, laundry, toilets, change and cleaning room for the staff.
Source : www.africanfarming.net