New grain storage facility to come up in Kenya
Posted on : Wednesday , 22nd July 2015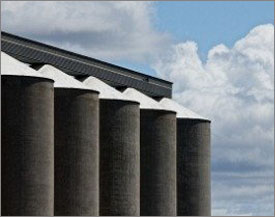 Dryland Seed Limited is building three new warehouses, with a capacity of 500 tonnes each, spread over 2,000 sqm for storing seeds in Machakos County in Kenya
Dryland Seed Limited will finance the construction of warehouses through a US$508,000 loan from the Africa Enterprise Challenge Fund, an initiative of the Alliance for a Green Revolution in Africa (AGRA), which has a number of donors and focuses on growing the African private sector in agribusiness and rural development.
Ngila Kimotho, managing director at Dryland Seed, said, "We believe that this investment will have a major impact on the lives of smallholder farmers across Kenya as it will scale up the adoption of certified seed and lead to increased yields."
The new storage facilities are set to benefit smallholder farmers, dealers of seeds and other enterprises working in the agriculture value chain by maintaining seed quality through a combination of good storage of products, good separation of varieties and improved stock rotation. It is expected that the project will ultimately lead to increased incomes and create new business opportunities for farmers and entrepreneurs in the seed sector. It also seeks to reduce post-harvest losses and increase incomes for smallholder farmers and agribusiness owners in the region
Dr. Agnes Kalibata, president of AGRA, was present at the ground breaking ceremony for the warehouses. "This is a proud moment for AGRA. We are very happy to witness such growth in a company whose journey with us started way back in 2007," Dr. Kalibata said. "We started partnering with Dryland Seeds when they were just a small agro-dealership and today we are delighted that they have become a key player in Kenya's agricultural transformation development agenda."
Source : www.africanfarming.net