Kenya eyes high-value agriculture to up production
Posted on : Monday , 8th June 2015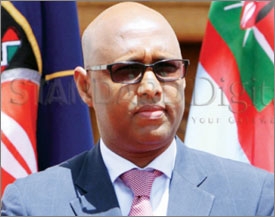 Kenya is committed to developing linkages between industrialisation and agriculture to power transformation. Acting Cabinet Secretary for Agriculture, Livestock and Fisheries Adan Mohamed said the move will open up opportunities in the sector and accelerate Kenya's food security plans.
Speaking in Cape Town at the Grow Africa Investment Forum last week, Adan said African countries need to attract the private sector. This, he noted will support farmers and agricultural projects to commercialise the sector and deal with food security.
"Kenya is creating an enabling agricultural policy to attract investors and establish investments in the agricultural sector which includes infrastructure investments to improve market access and lower the cost of production," he said.
The CS said Kenya's agricultural potential will be complemented by the plan to develop agro-processing capability through value addition.
He noted that the focus is on empowering and creating opportunities for smallholder farmers and elevating them from subsistence farming to feeding the regional market. "We are currently reviewing the agricultural policy to address the needs of small-scale farmers, taking into account the emerging trends in the sector such as environment and climate change."
He said the model farm of 10,000 acres which is part of the one-million-acre food irrigation programme is progressing well and once completed, will offer a sustainable food security solution. The Grow Africa Investment forum is part of the World Economic Forum on Africa that brings the continent's leaders together to deliberate on Africa's opportunities.
Source : www.standardmedia.co.ke