AgDevCo's initiative to boost smallholder farmer incomes in Africa
Posted on : Wednesday , 16th December 2015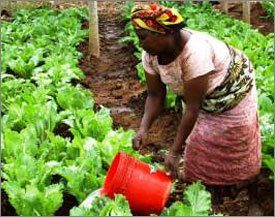 AgDevCo, in partnership with The MasterCard Foundation, has announced a US$15.4mn initiative to boost the incomes of smallholder farmers in seven African countries
Activities in Ghana, Malawi, Mozambique, Senegal, Tanzania, Uganda and Zambia will include providing training and better quality inputs to farmers, implementing mobile technology solutions, and brokering long-term purchase contracts.
AgDevCo, specialist agriculture impact investor, has established a smallholder development unit (SDU) to work with the farmers to increase their productivity and strengthen their ties with local agribusinesses.
The SDU aims to develop 25 'outgrower schemes' over five years, directly benefitting up to half a million farmers, half of them women under the age of 35 years.
Sandi Roberts, head of AgDevCo's SDU, said, "Boosting farmer productivity is not enough. Farmers need long-term relationships with trusted buyers who pay fair prices. The SDU can help farmers who need reliable markets and local agribusinesses needing quality raw materials."
Ann Miles, director of financial inclusion and youth livelihoods at The MasterCard Foundation, added, "We are excited about the potential of this work with AgDevCo to drive the adoption of new technologies - such as mobile phones, cashless payments and micro-insurance products - by a younger generation of African farmers.
"We want to help to shift the perception of agriculture so that young people see it as a viable livelihood in which they can imagine a beneficial and sustainable future."
The SDU is expected to make an important contribution to AgDevCo's mission of investing in agricultural enterprises in Africa to create jobs, improve food security and increase rural prosperity.
Source : www.africanfarming.net