Promoting sericulture in Kenya
Posted on : Thursday , 10th December 2015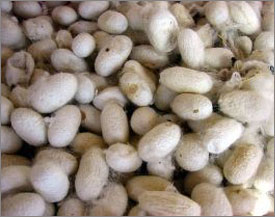 A sericulture research centre has been established at the Kenya Agricultural and Livestock Research Organisation in Thika
Dr, Muo Kasina, director of the centre, said that it has been set up with the aim of stabilising the growth of the silk farming sub-sector in the Kenya, which is still under-developed at the moment. The centre is aimed at developing sericulture research in the country. The silk sector, he said, is a unique one because it is a luxurious commodity globally, one for which the supply in never enough.
"The biggest markets in the world are in Japan, UK and France. Though production in Kenya is non-existent, the country still has the potential of getting into the global market. Silk farming will work well if farmers were to form cooperatives," Kasina said, during a presentation to the Kenya Science Journalists Congress in Nairobi.
According to Kasina, all the silk produced in Kenya goes to the domestic cottage industry and is not sufficient to meet even that demand. Currently, silk farmers only sell cocoons, which Kasina said can be processed to raw silk, which will also give farmers more money.
Mulberry is grown in Kakamega, Homa Bay and neighbouring counties such as Kiambu, Kitui, Machakos, Makueni and Meru. Over 600 farmers are involved in sericulture in Kenya and annual production is less than two tonnes of dried cocoons, while the national potential is over 10,000 metric tonnes.
Kasina said that a kilogram of cocoons sells for about US$4.50, compared to one kilogram of raw silk that could fetch a farmer close to US$50. "Silk farming is a major business venture and farmers cannot go wrong in it. The silk worms take 30 days to mature and the mulberry will stay in the farm for about 30 years or more," he added.
Source : www.africanfarming.net