New palm oil processing plant to come up in Liberia
Posted on : Wednesday , 9th December 2015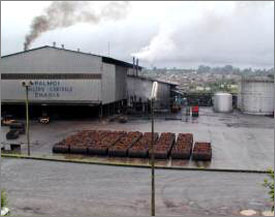 Golden Veroleum Liberia (GVL) has received components for the construction of a palm oil plant in Liberia
The consignment of mill materials has components for the construction of a modern palm oil plant, which will include a mini mill and a main mill. Valued at US$30mn, construction of the plant, which will process fresh fruit bunches into oil, is expected to take 24 months.
According to a press release issued by GVL, the mini mill will process five tonnes of palm per hour and the main mill will process 80 tonnes of palm per hour at full capacity. The company also added that its first priority is to supply the local market in Liberia.
GVL said that the first shipment of mill components consisted of 90 per cent of mini mill equipment and 10 percent of main mill equipment.
The release quoted GVL spokesman Stephen Binda as saying, "This is a manifestation of our commitment towards ending rural poverty and boosting investment, employment and development opportunities in Liberia's southeast. We are confident of employing more Liberians in the future."
Having started operations in Liberia in 2010, GVL employs about 4,000 Liberians in Sinoe and Grand Kru counties, and the company anticipates employing approximately 35,000 locals over the course of its operations in the country.
Source : www.africanfarming.net