Kerrygold is opening up a new factory in Nigeria
Posted on : Tuesday , 1st December 2015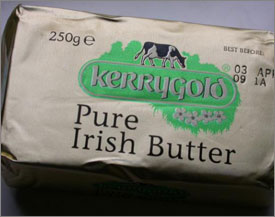 KERRYGOLD HAS ARRIVED in Nigeria with the opening of a new packaging facility in the country's capital.
Ornua, the recently rebranded Irish Dairy Board, opened the facility this morning.
It says the move will strengthen the company's foothold in Africa, allowing a new route for powdered milk products to enter the continent.
The powdered milk, generally sold in small containers across Africa, will be exported to Nigeria and packaged at the new factory, before being marketed under the Kerrygold brand.
Ornua chief executive Kevin Lane said opening the new facility is "another important step in our growth plans for Africa".
"Importantly for Irish dairy farmers, this development offers an enhanced route to market for the additional forecasted milk volumes," he said in a statement.
Ornua noted that Nigeria is the largest importer of full-fat milk in Africa, and last year imported 166,000 tonnes of milk powder at a value of €455 million.
The cooperative currently employs 250 direct and indirect employees at its African headquarters in Port Elizabeth, South Africa.
Minister for Agriculture, Food and the Marine, Simon Coveney is currently in West Africa on a trade mission, aimed at "increasing the profile of Ireland in Nigeria and developing trade and business opportunities across a broad range of goods and services".
The Minister said €50 million worth of contracts were signed yesterday alone.
Speaking about the dairy industry, he said: With more than 85% of Irish dairy production being exported and one third of the value of these exports going outside the EU, it is imperative that the Irish dairy sector continues to source sustainable third country markets particularly now that our output is expanding since quotas were abolished.
Source : uk.news.yahoo.com