Rwanda looks to horticulture sector to spur export earnings
Posted on : Monday , 30th November 2015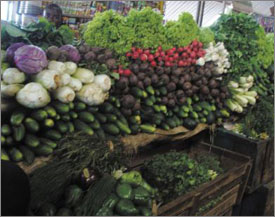 RWANDA - Rwanda is counting on its robust horticulture industry to fetch at least $140 million (about Rwf105 billion) worth of export returns annually by 2020.
Horticulture is a priority industry seen as a 'quick win' sector that could help improve the country's foreign exchange earnings in the short to medium-term. Experts say the sector has potential to help diversify the country's exports and boost its self-reliance drive.
According to George William Kayonga, the National Agricultural Export Development Board (NAEB) chief, the horticulture sector presents huge investment opportunities.
"The government target is to increase support to the horticulture sector to help boost exports from current $6 million to $140 million by 2020," Kayonga said. He added that Rwanda is well placed to serve growing global, regional and local demand for fruits, flowers and vegetables.
Rwanda's export earnings dropped to $275.28 million (about Rwf206.5 billion) in the first half of 2015, from $293.61 million (about Rwf220.2 billion) last year.
According to Kayonga, the targets will require 10-20 medium sized exporters and production on 2,000 hectares of nucleus farms with 6,000 hectares of out growers within the next five years.
Identified competitive commodities
The plan is to focus more on French beans and peas, horticulture specialties - baby corn, chilli, mini leek, African eggplants, mushrooms and herbs. NAEB is also encouraging the private sector to invest in exotic fruits growing, especially apples, bananas, passion fruits, avocados, as well as flower growing.
"Horticulture sector is still young in Rwanda, but in the last two years we have seen sizeable shipments to Europe. We have also been encouraged by new investors who have started exporting French beans and chilies," Kayonga said in an interview on Friday on the sidelines of the international horticulture conference in Kigali.
The conference was organised by Private Sector Federation, the Rwanda Horticulture Interprofessional Organisation and AgriPro Focus Rwanda. According to NAEB, the first commercial avocado plantations are expected to deliver 600 tonnes onto the export market by 2018 from two farms.
Kayonga said the Gishari flower park project is targeting to export 14 million stems of roses next year, four million stems of summer flowers are expected to be exported from Rulindo flower project next year.
The export body is optimistic that the newly-developed Agricultural Land Lease Client Charter and standard contract and corporate farming models will help streamline the process of leasing land and boost production.
Improved cold chain storage facilities and warehouse at the Kigali International Airport, and new pack house due for completion in April next year, plus the growing number of flights from Kigali to key global markets in Amsterdam, Brussels, Dubai, Nairobi, and Brazzaville, among others, are an added advantage that will stimulate production, officials say.
More opportunities
Meanwhile, government is seeking partners in its flagship projects, like Gishari flower park - expansion project (from 35 hectares to 100 hectares) and the several hectares earmarked for apple production.
"More investors are needed for the Kigali wholesale market for fresh produce, which will be set up on a 10-hectare piece of land in the Kigali Special Economic Zone, according to NAEB.
Kayonga said 250 hectares of land are also ready for investment in vegetable production in Gashora.
Such public-private partnerships, according to Kelvin Remen, a policy analyst at the Tanzania Horticultural Association, are critical to ensure the sector grows and becomes sustainable.
"Such commitments (public-private partnerships) are necessary for the industry's development, inclusive of promotion of innovative practices for improved productivity and market access in horticulture sector," Remen said.
It also assures farmers of a ready market, improves their capacity and eases access to inputs and farming materials, he added.
"This will lead to supply assurance, low investment cost and increased competitiveness of the sector."
Challenges
Venuste Nahimana from the Rwanda Horticulture Inter-professional Organisation, said low levels of investment, lack of innovation and inadequate farming skills remain major challenges the sector faces.
Nahimana said other challenges, include dietary culture that over prioritises staple grains, like maize and rice at the expense of fruits and vegetables, which leads to low consumption of horticulture products.
"There is also limited capacity at the farmer level that affects they ability to add value to produce due to lack of skills and equipment," he added. Poor marketing among farmer organisations and lack of market information equally remain big challenges hurting investing in horticulture sector.
Josephine Makondo, the chairperson of the Zambia Chamber of Commerce, said failure to meet all the sanitary and phyto sanitary measures by the European market, coupled with poor farming methods have for long affected the quality of regional horticultural products. Makondo called for joint efforts to address the challenges.
Source : www.agribusinessafrica.net