Brookside Dairy enters powdered milk market
Posted on : Friday , 27th November 2015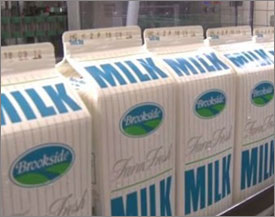 Brookside Dairy has begun selling powdered milk, a year after commissioning a Sh3.5 billion dry milk plant to facilitate production.
The move into the powdered milk market has seen the processor's daily intake of raw milk rise to nearly two million litres.
Brookside's Director of Milk Procurement, John Gethi, said the Ruiru-based firm is servicing several bulk orders for powder each day, mainly from confectionery industry players.
"Our powder is manufactured from locally sourced raw milk. As an ISO-certified dairy firm, we are keen on offering the best quality powder that meets the test of better solubility and colour - the main attributes preferred by buyers," Mr Gethi said.
Brookside's entry into the niche market of powdered milk is expected to intensify the fight for control of the long-life milk product portfolio.
New KCC and Uganda's Pearl Dairy are key suppliers of milk powder for the local market.
Source : www.standardmedia.co.ke