Mauritius: Nation Endorses the Comprehensive Africa Agriculture Development Programme Compact
Posted on : Friday , 24th July 2015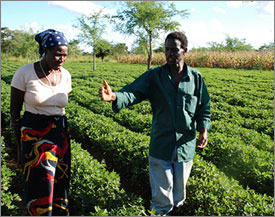 The signature ceremony of the Mauritius Comprehensive Africa Agriculture Development Programme (CAADP) Compact, intended to assist the Government in defining and accelerating implementation of its agricultural development agenda, was held yesterday at Westin Turtle Bay Resort and Spa, Balaclava.
The Minister of Foreign Affairs, Regional Integration and International Trade, Mr Etienne Sinatambou; the Minister of Agro-Industry and Food Security, Mr Mahen Kumar Seeruttun, and other personalities were present at the function.
CAADP is a commitment of African countries to pursue a higher path of economic growth through agriculture-led development in order to reduce poverty and hunger in the continent. CAADP countries are expected to achieve 6 percent growth in the agricultural sector of their economies and allocate at least 10 percent of the national budget to agriculture.
The Compact validates the consensus on the goals and priorities that Mauritius has set for the sector and the partnerships and assistance that are required to achieve these goals. Its ultimate purpose is to increase the effectiveness of planning and execution of Government's efforts as well as of the delivery of external assistance in the agricultural sector as well as provide a solid framework under which assistance can be scaled up to help meet the short and long term investment needs in the sector.
In his address, Minister Sinatambou recalled that Mauritius, being a small island developing state is limited by its physical size to expand the agricultural sector. Therefore, Mauritius is positioning itself to be more self-reliant through increase in agricultural productivity, creating more opportunities for innovation and value addition and intra-industry linkages, he underlined.
According to him, it is important for Mauritius to develop its National Agriculture Investment Plan and an action plan for implementation. These are important to enable us to benefit from financial support from the Global Agriculture and Food Security Programme Fund, totalling US$ 253.8 million, to finance our national projects, Mr Sinatambou said.
For his part, Minister Seeruttun stated that to modernise the agriculture sector and address the threat of food crisis, the Government of Mauritius through the Government Programme 2015 -2019 is proposing a series of measures to boost up the production of strategic crops for food security, encourage cross-border initiatives, empower farmers and attract young entrepreneurs to engage in agriculture.
He also announced the finalisation of a Strategic Plan for the agricultural sector. Our aim is the promotion of an agri-business approach to farming, with the adoption of appropriate technology and sound management practices in order to achieve sustainable agricultural production, and to contribute significantly to social and economic development and food security, as well as to the effective and judicious use of the natural resource base of the country, he stressed.
Source : allafrica.com