Ugandan firm Pearl to construct dairy factory in Kenya
Posted on : Monday , 16th November 2015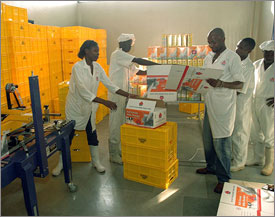 Ugandan firm Pearl Dairy Farms has announced plans to construct a dairy factory in Kenya that will be tasked with production and repackaging of milk products. The factory to be constructed in the capital Nairobi is aimed at growing Pearl's market share in the region.
Atul Chaturvedi, the CEO of Pearl confirmed the reports and said that the initial estimate of the investment in the planned factory stands at about US$ 1m.
"We have for a long time been serving the Kenyan market from Uganda and our new factory will help in repackaging our products and subsequently set up a plant," Atul Chaturvedi, the CEO of Pearl further said.
Currently, the company serves the local market with ghee, butter and milk powder imported from its Ugandan plant and the new project which is meant to cut costs incurred during importation of dairy products will lead to better service to the Kenyan customers.
The dairy factory in Kenya will commence operations in March next year while the manufacturing plant will follow as the sector has shown significant growth encouraging more and more investments.
Statistics from the East and Southern African Dairy Association revealed that Kenya imports significant quantities of milk from Uganda to meet its deficit. The report also showed that Kenya bought milk worth US$ 5m from Uganda last year.
Pearl Dairy Farms Ltd. is the agro arm of the Midland Group of Companies with the manufacturing unit based in Mbarara District of Uganda in East Africa region. The intent of the setup was to help the local dairy farmers by generating a constant demand for milk in the region and to educate them to adapt to cleaner and more hygienic milk production techniques to contribute towards the growth of dairy industry as a whole.
Source : constructionreviewonline.com