AJEAST invests N500m to drive Big Cola brand
Posted on : Wednesday , 11th November 2015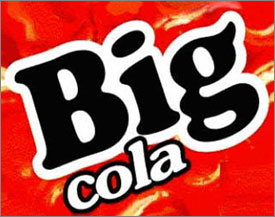 NIGERIA - Ajeast Nigeria Limited, a subsidiary of AJE Group worldwide has disclosed plans to invest N500 million in Nigeria to expand its big cola soft drink brand.
Speaking at the official launch of its Big Cola soft drink brand in the Federal Capital Territory (FCT), Country Manager, Theo Williams said the company intended to create millions of jobs for Nigerians as it offers quality and affordable soft drinks produced from state-of-the arts production lines that ensure and guarantee the highest hygienic and quality standards obtainable.
The FTC lunch effectively expanded its business operations to Abuja and other northern part of the country.
He said: "This is truly remarkable as no other player in Nigeria has given consumers great tasting, superb quality and quantity. The 'Think Big' brand will have a recommended retail price of N90.00 per 650ml bottle, and give consumers more value for less."
Williams also said a communication campaign targeted at pan-Nigeria had been developed to support the launch of the drinks.
These include radio commercials, outdoor billboards, in-store promotions and major events, among others.
He said: "An aggressive 'Think BIG' sampling promotional campaign will be conducted to avail our discerning consumers a firsthand experience of the uniquely rich taste of BIG brand flavours.
The 'Think BIG' promotional campaign will be at a retail point near you, so gear up to experience the 'Think BIG' brand."
He said as the 10th largest producer of soft drink by volume, worldwide, which started 27 years in a garage, Ajeast had now become a truly multi-national business with operations spanning Latin America, Asia and Africa.
This has in ripple effects, provided gainful job opportunities for thousands of people as well as putting a smile on the consumers' faces, Williams added.
"Our discerning consumers strive for quality tasting drinks that they can be proud of with more value for Less money spent, which represents who they are and where they are going.
BIG, which is a proud partner of the English FA cup and the Spanish giants, Barcelona FC, is made from our unique signature making process that has over the years, won the hearts of many," Williams added. BIG Cola, Lemon and Orange are available in key cities across the country with expansion on-going", he said.
He added: "The soft drinks can only be described as a welcome delight to the taste buds of the consumers. Indeed, this is truly remarkable as no other player in Nigeria has given consumers great tasting, superb quality and a more value for money drink as Big Cola lemon and orange.
This truly, is giving the consumers 'More value for Less'. BIG truly is, democratising soft drinks consumption in our great country Nigeria."
AJEAST is a Green field operation with new, state-of-the arts factory situated in the heart of Agbara, Ogun state.
The company targets to nurture brands to be the first choice of consumers and customers in Nigeria, by offering more value for less money at an incredibly high quality standard.
Source : www.foodbusinessafrica.com