Barclays plan increases scope in agriculture financing
Posted on : Wednesday , 11th November 2015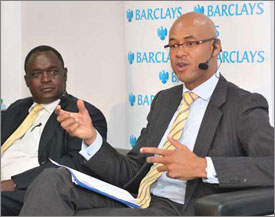 KENYA - Barclays Bank has expanded its portfolio into agriculture, by launching an agribusiness unit to offer loans and consultancy.
The lender Monday rolled out a strategy, which was developed with ABSA South Africa, a subsidiary of Barclays PLC, to increase operations in the sector.
Barclays Bank of Kenya Managing Director Jeremy Awori said the agribusiness unit would mainly lend money from a Sh30 billion kitty set aside for small and medium enterprises this year.
He said the bank would also channel money through corporate lending for bigger projects, including setting up processing plants.
"We have done in-depth research in the key sectors that are already developed, including flower and grain industry, and we are hoping to expand more," he said.
ASSET FINANCING PRODUCT
Mr Awori said the project comes at an important time when the bank has set up an asset financing product that can go into lending for machinery and a bancassurance product to underwrite risks.
The bank has also signed a deal with Technoserve to fund 240 youth-driven agricultural enterprises to the tune of Sh25 million.
The one-year African Young Agripreneurship Programme will help young farmers from Kajiado, Bomet, Nyeri, Kirinyaga, Embu and Kiambu counties to develop strong businesses while linking them to information, capital and markets.
Mr Awori said the bank is determined to play its part in making Kenya the region's bread basket and a net food exporter as envisioned in the Vision 2030 economic blueprint.
"We have recruited a team of agricultural specialists who understand the variable and cyclical nature of agri-business to help us tailor-make flexible and cost effective financial solutions that will cater to the entire value chain," said Mr Awori.
Barclays will leverage its regional and global reach to benchmark against best practice and develop innovative solutions that will boost the sector's performance.
Source : www.agribusinessafrica.net