Xeikon expands DecoFlex partnership in Southern Africa
Posted on : Monday , 9th November 2015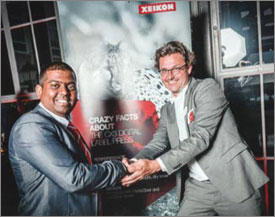 Xeikon is to further support its customers in South Africa, Zambia, Tanzania, Namibia, Botswana, Mozambique, Madagascar and Mauritius, through an extended partnership with DecoFlex.
Sachin Sukhlal, DecoFlex's technical sales manager (left); and Vincent van Horenbeeck, Xeikon area manager Middle East, Turkey & Africa
DecoFlex (Pty) Ltd has been the agent for Xeikon ThermoFlexX (Flexo Computer-to-Plate) since 2013. Now its certified and professional staff will now extend its expertise to Xeikon's digital print portfolio. It will also provide Xeikon customers with a sales and support structure, as well as relevant information and service.
'We are delighted to offer reliable service and back-up for Xeikon's products and services in the region,' stated Sachin Sukhlal, DecoFlex's technical sales manager. 'The digital printing industry is ever-growing and evolving. As such it needs to be supported and updated with new trends and we have highly skilled, certified technicians that can provide that in partnership with Xeikon's products.'
He continued, 'The South African packaging and decorating market is well-established and it is a common fact that many overseas companies see it as an important spring board for their products into the rest of the African continent. Teaming up with Xeikon enabled us to offer a much wider range of equipment and solutions to our clients. We expect the digital print market segment to grow rapidly in importance as far as the labels and packaging industry is concerned.'
The announcement comes as the South Africa labels and packaging industry matures. Vincent van Horenbeeck, Xeikon area manager Middle East, Turkey & Africa, explained, 'The purpose of label production and packaging is no longer just protecting and informing. Brand owners have discovered the selling power of eye catching labels and packaging. In today's market, where thousands of seemingly similar products compete for customer's attention, strong shelf appeal is vital.'
He pointed to several trends that have caused the industry to move towards a broader variety of SKUs and shorter run lengths. These include rapidly increasing product variety as a result of industry globalisation, brand owners targeting ever smaller groups of customers, the growing importance of event marketing and increasingly shorter product life cycles. In addition, stocks are being reduced, leading to just in time inventory policies. As a result, printers and converters have had to meet increasingly shorter turnaround times. Features and advantages Xeikon Digital Presses offer to the digital print market include profitability through higher productivity thanks to the high quality print and the widest available imaging width in their target markets and applications. They also offer flexibility for customers to grow at their own pace and sustainable operation.
Unique offering
'Xeikon digital printing technology is capable of meeting most, if not all, of the market's requirements while maintaining profitability,' he said. 'By nature, it allows unlimited variability, is uniquely suited to the production of multi version labels and enables cost effective short to medium print runs. Xeikon's digital printing technology is a great complement to flexo, letterpress and offset. Its many features and advantages give printers and converters a whole range of new business opportunities.'
Sukhlal, concluded, 'This venture has indeed sparked opportunities for both parties concerned, I am very excited and extremely enthusiastic to represent the Xeikon brand and promote their products in our territory. We have a strong back-up team and have been trained well under Xeikon's supervision and expertise. We aim to offer the same level of service to clients in our territory.'
Established in 1994 DecoFlex, became a limited company in 1998 and has since served the flexographic industry with its expertise and related equipment. Until now the focus of the business has been on the flexographic printing industry but following the announcement of the partnership DecoFlex will move towards digital print media.
Source : www.graphicrepro.co.za