Kiambu bets on Sh150m feed plant to trim farm costs
Posted on : Friday , 6th November 2015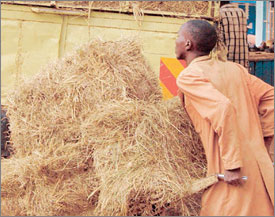 KENYA - Dairy, poultry and rabbit farmers in Kiambu County are set to benefit from an upcoming Sh150 million feed processing plant that is expected to cut their production costs by up to 40 per cent and boost profits.
The factory, whose feasibility study is on, is part of a broader Sh500 million farming revitalisation kitty that the county is implementing this financial year.
Dr Monicah Waiganjo, the county's executive for agriculture, said the total gross income for the dairy, poultry and rabbit sectors is expected to shoot from the current Sh43 billion per year to Sh120 billion.
"With the establishment of a factory specialising in production of bran, pollard, dairy meal, rabbit pellets and stage by stage poultry feeds, we anticipate that profitability margins for these sectors will increase," she said.
Dr Waiganjo said research shows that profitability in the dairy sector is 23 per cent, followed by poultry sector at 15 per cent profit margin while rabbit breeders enjoy 11 per cent.
When the new factory roars to life, she says, the figures are likely to increase to 36 per cent, 28 per cent 25 per cent in that order.
Kiambu has 523,000 dairy cows, 68,000 assorted species of poultry and a total of 18,000 rabbits, the latest official census figures show.
Productivity and profitability in the three sectors have suffered because of poor quality of animal feeds while inflation has pushed prices, which is compounded by energy costs.
Dr Waiganjo explained that animal feeds contribute to as high as 80 per cent of profit component while the breed quality of the animal accounts for the balance.
"We will have a model where all member farmers will be purchasing animal feeds from the plant at a 50 per cent reduced cost per measure," Dr Waiganjo told Enterprise.
"Our approach is a public private partnership where all of our revitalisation projects will be co-owned by the beneficiary communities and the county government."
Ads and Related Buttons Ads minus related Buttons
She added that the county is drawing its revitalisation map to serve as pilot for the project, including starting distribution of milk coolers and pasteurisers.
Last week, Kiambu governor William Kabogo launched distribution of six milk coolers worth Sh19 million to be located in Kabete, Kikuyu, Lari, Gatundu South and Gatundu North.
The cost of livestock feeds in the country has been going up over the years, discouraging farmers from business.
Prices have been compounded by makers of substandard feeds who sell to unsuspecting farmers and end up compromising productivity.
Acting Agriculture Cabinet secretary Adan Mohamed, during a recent gala hosted by the East and Southern Africa Dairy Association (Esada), said there was a need for feeds makers to improve quality.
Milk production has been low even with the high number of cattle, he said. Kenya has more cattle than South Africa yet the latter produces more milk, helped by quality and modern technology.
Low supply
"We want firms to make high quality feeds, which will help in boosting the volume of milk in the country," said Mr Mohamed, adding that the government is formulating industry guidelines to achieve these quality standards.
Dairy feeds are mainly made from white maize, which is purely carbohydrates, but manufacturers are required to add key supplements such as protein - mostly sourced from cotton cake.
There is low supply of cotton cake in Kenya, forcing manufacturers to rely on imports from Uganda.
Source : www.agribusinessafrica.net