IFC to invest Sh8.2b in beverage can factory on Nairobi's Mombasa Road
Posted on : Thursday , 5th November 2015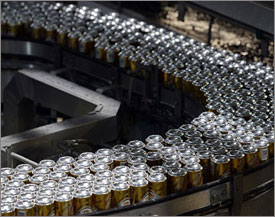 The International Finance Corporation (IFC) will invest Sh8.2 billion in a can factory to be set up on the Nairobi-Mombasa highway by Nigeria's GZ Industries.
IFC, the World Bank Group's private lending arm, announced the planned equity investment in a disclosure document released on Thursday.
Once completed, the multimillion-shilling factory, which will primarily produce aluminium beverage cans, is expected to provide 220 direct permanent jobs and more indirect jobs in the local supply chain in sectors such as logistics and transportation, maintenance and other support services.
GZ Industries currently operates two beverage can-manufacturing plants in Nigeria.
It is on an expansion drive that will see it open a similar factory in South Africa and acquire the container glass, plastic crate and crown manufacturing operations of Frigoglass in Nigeria and the United Arab Emirates at a total cost of Sh36.7 billion ($360 million).
"The project will replace imported beverage cans with locally produced products in Kenya, which currently imports all can requirements, saving foreign exchange.
"Kenya will earn additional foreign exchange from the export of cans to other East African countries," said IFC in a statement.
Apart from the IFC, other major shareholders of GZ Industries include Standard Chartered Private Equity and Verod Industries Limited, a Nigerian investment company.
FIRST IN EAST AFRICA
The planned can factory in Kenya will be the first of its kind in the East Africa region, and hence is key in developing the local manufacturing industry and transferring knowledge about can manufacturing among the local population.
According to an Environmental Impact Assessment (EIA) report on the proposed plant published in May this year, construction of the factory ought to have started in April and completed by the end of this year.
In 2012, Coastal Bottlers, one of Coca-Cola's franchises, opened a Sh450 million plant with the capacity to produce 30,000 canned sodas per hour.
The GIZ factory will have the capacity to produce 2.4 billion cans annually.
Local demand for cans is set to come from locally operating beverage makers such as Coca-Cola and East African Breweries Limited, among others.
To meet its equity funding, IFC plans to mobilise additional equity financing from Africa, Latin America and the Caribbean Fund.
Source : www.nation.co.ke