Novus in second-half profit alert
Posted on : Friday , 6th November 2015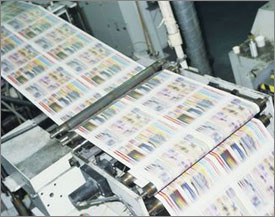 NOVUS has warned it was unlikely to achieve the same operating profit growth seen in the first half to September during the rest of its financial year because of the seasonal nature of the printing industry.
Novus, which prints workbooks, newspapers, magazines, tissues and labels, reported on Thursday its maiden interim results. It said it expected the second half of the year to be "subject to significantly more challenging market conditions and it is likely that the gains achieved in the first six months may be partially relinquished in the latter part of the year".
Novus, which listed on the JSE in March, reported a 16.2% rise in headline earnings per share for the six months to September to 75.7c. Revenue was unchanged at R2.08bn.
The print segment, made up of heatset, coldset and digital printing, recorded a marginal decline in revenue to R1.97bn. Paarl Labels and Correll Tissue businesses grew revenue by an impressive 63.9% to R127.1m. This was attributed to the inclusion of the Correll Tissue revenue, but only for four months, and new clients.
"Although top-line growth was flat, we are encouraged by our operational efficiency initiatives and growth in new business areas," said CEO Stephen van der Walt.
"The market during the second half of the year will be challenging, but we remain focused on our core strengths, new projects and diversified offering in the long term to generate cash. We will continue to ensure our growth strategy leverages the opportunities across sub-Saharan Africa to unlock additional value," said Mr van der Walt.
The group would continue exploring acquisitions or joint venture opportunities in diversified and related businesses locally and on the continent as it aims to increase earnings from other African territories.
Novus operates 12 specialised printing plants and one tissue plant across SA. It has installed a new packaging gravure press for the production of labels and wraparounds at its Cape Town facility.
Source : www.bdlive.co.za