Pyrotec PackMedia wins big at Fix-a-Form International Awards 2015
Posted on : Tuesday , 3rd November 2015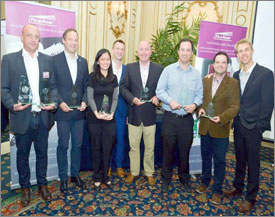 Pyrotec PackMedia walked away with three awards at the recently held 2015 Fix-a-Form awards ceremony. Its winnings included joint first prize for Best Fix-a-Form Marketing campaign and winner of the best innovative Fix-a-Form leaflet-label award.
The ceremony was held during Fix-a-Form International UK's biennial conference in Brussels, Belgium. Top managers and sales personnel attended from its global network of manufacturers.
Fix-a-Form International's Stephen Moore comments: 'As usual, the calibre of award entrants was very high, making for some tough decisions for our guest judges. The complexity of each construction and level of intricate detail put into every leaflet-label design continues to push the boundaries.'
Pyrotec's MD, Rowan Beattie, walked away with the longevity award.
Source : www.foodreview.co.za