Ghana to get Italian help for developing fisheries
Posted on : Tuesday , 27th October 2015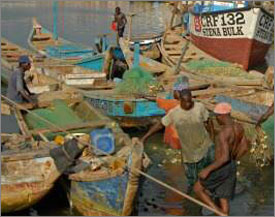 Ghana's Ministry of Fisheries and Aquaculture Development has signed an MoU with the fishing production district of Mazara Del Vallo in Italy to enhance fish production
Both countries have agreed to cooperate in the promotion and creation of a fishery cluster in Ghana and develop the necessary activities, based on the model of Mazara Del Vallo. According to the agreement, the initiative would enable the diversification of the economy and the development of a network of activities related to the fishery sector.
Some of the areas of collaboration under the MoU are the development of fishery ports in Ghana, the construction and maintenance of fishing boats and the building of electronic and mechanical workshops. Other areas for cooperation are the setting up of equipment stores to supply nets, safety systems and engines, and the establishment of training schools, universities and research centres for innovation and technology transfer.
Both countries also agreed to encourage and facilitate direct contact among private operators to create joint ventures, as well as exploiting public and private funds to set up fishery clusters to improve fishing systems and fish farming in Ghana.
The minister of fisheries and aquaculture development, Sherry Ayitey, said that the initiative would promote the development of fishery and aquaculture in Ghana, adding that the Italians would provide expertise and develop a feasibility study to identify sites for cluster activities, with support from their Ghanaian counterparts.
The move will also strengthen the relationship between Ghana and Italy through the scientific and technological development of the fishing industry, according to a report in GhanaWeb.
Source : www.africanfarming.net