Kenya: Counties Should Promote Smart Farming Techniques
Posted on : Saturday , 24th October 2015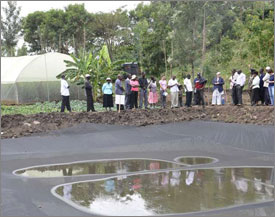 TIME HAS COME for county governments to take advantage of Kenya's commitment to use smart agricultural technologies, which is a way of increasing the sector's productivity while at the same time addressing effects of climate change.
In response to decisions adopted at the 19th and 20th sessions of negotiations on how to manage climate change under the United Nations Framework Convention on Climate Change (UNFCCC), Kenya has listed and presented climate smart agriculture to the UN as part of its Intended Nationally Determined Contribution (INDC).
During the previous negotiations, countries across the globe committed to create a new international climate agreement by the conclusion of the next Conference of the Parties (COP21) in Paris in December.
In preparation, countries have agreed to publicly outline what post 2020 climate actions they intend to take under a new international agreement geared towards mitigation and adaptation to the changing climatic conditions.
As a result, among other sectors, the country seeks to enhance its resilience in the agriculture, livestock and fisheries value chains by promoting climate smart agriculture and livestock development.
In general, climate smart agriculture is a joint approach to address interlinked challenges of food security and climate change, sustainably increasing agricultural productivity, adapting and building resilience to climate change, while reducing greenhouse gas emissions from the agricultural sector, which includes crops, livestock and fisheries.
VOLUNTARY WILLINGNESS
So far, Kenya has a Climate Smart Agriculture Framework Programme, which builds on the Kenya National Climate Change Action Plan (NCCAP 2013-2017) and the National Climate Change Response Strategy (NCCRS) to further expand on the specific actions that will be undertaken by agriculture and associated sectors to contribute to the country's voluntary commitment.
The programme was jointly developed by the Ministries of Agriculture, Livestock and Fisheries, and Environment and Natural Resources with the help of the research programne on Climate Change, Agriculture and Food Security (CCAFS), the Centre for International Forestry Research (CIFOR), the World Agroforestry Centre (ICRAF), the International Livestock Research Institute (ILRI) and the International Centre for Tropical Agriculture (CIAT)
And since the INDC is an instrument that stipulates Kenya's voluntary willingness to contribute to the global effort to reduce or limit the impacts of greenhouse gas emissions, county governments must take the lead in implementing climate smart agriculture, given its numerous advantages both to the environment and particularly to smallholder farmers.
The commitment to such an international agreement means that during its implementation, farmers will directly benefit from financing of appropriate technologies and practices that support climate smart agriculture.
It also means that the government will collaborate with other public and private sector partners to avail crop varieties that are resilient to drought. The farmers practising climate smart agriculture will be supported with means of harvesting rainwater and storing it for agricultural use, and that the government will work to improve efficiency for fertiliser use among other related farm inputs that support climate smart agriculture.
Farmers will also have access to more heat-tolerant and disease-resistant livestock breeds that are better adapted to the prevailing tough climatic conditions, and which can feed on fodder more efficiently to reduce greenhouse gas emissions per unit of product (such as milk, meat and eggs, among others).
Through this, Kenya aims at reducing its greenhouse gas emissions by 30 per cent by 2030 through climate smart agriculture, in combination with other commitments that include use of clean energy, forestry, efficient water use, transport and waste management.
If such deliberate measures are not put in place, scientists have warned that the global temperatures are going to increase drastically, leading to tougher climatic conditions that will not support agriculture and livelihoods in general.
Source : allafrica.com