African Coffee Shops Boom Driven By Meals, Consumption Rise Slowly
Posted on : Friday , 23rd October 2015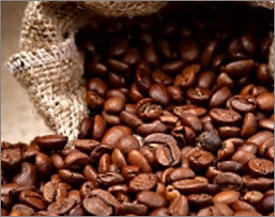 That is the explanation Charlse Kihiko, the founder of Kenya's newest coffee shops chain, Urban Coffee, gave in an interview with Business Daily.
Kihiko, who bought his first coffee shop from his former employer, Dormans, before it sold out to rival company ArtCaffe in 2012, has expanded the business to include four outlets in Nairobi.
This is just one of the many coffee shops that have become a common feature across African cities as a growing middle class on the continent increases their demand for classy after-work meeting spaces and places for family and friends dinner hangouts.
But even with these coffee shops, sub-Saharan Africa, which produces some of the finest coffee beans in the world, still consume very little of the beverage, with most of the crop only grown as an export cash crop.
"The business wouldn't purely have grown the way it has if it was purely on coffee and pastries," Kihiko said.
Pan-African banking group, Ecobank, however forecasts that coffee consumption on the continent is likely to rise as an emerging urbanized middle class increase its demand over the years.
This expectation has seen a number of coffee shop chains such as Nigeria's Neo Cafe, Kenya's Java, Ethiopia's Kaldi's and even US-based Starbucks open expand across cities on the continent.
This is low compared to other emerging markets such as Brazil with 6kg per capital and Algeria with a 3.2kg per capita. Developed nations such as the European Union have an annual coffee per capita consumption is close to 9kg, HowWeMadeItInAfrica reported.
Euromonitor, the consumer research firm, estimates that coffee demand in Africa rose about 20 per cent in volume in the five years to 2014.
In Kenya coffee consumption has increased 46 percent in the four years to 2014 according to the country's coffee traders association, while Ugandan-based African Fine Coffee Association says demand in the country has soared over the recent years.
"[In Uganda] 10 years ago, there were virtually no coffee shops in Kampala, but now there are 30 to 40 which serve first class coffee," David Barry, managing director of Kyagalanyi Coffee in Uganda, a unit of commodities trader ED&F Man, told the Financial times.
But even with this growth, global coffee shop leaders like Starbucks, which opened its first shop in Johannesburg this year, still don't find the African market lucrative enough
Ecobank says Starbucks "will sell its coffee as a premium product, reflecting its emerging market strategy to position itself as an inspirational brand. It will not appeal to all price-conscious African coffee drinkers."
While a commodities price slide has taken the shine off the "Africa Rising" narrative, some like Kenya's Java House still harbor ambition of capturing the rising spending power of sub-Saharan Africa consumers.
Java's founder Kevin Ashley, who has chain coffee houses and restaurants has grown to 36 since 1999, told Reuters he plans to expand the brand across Africa in the next five years to capitalize on this rising consumer spending.
Source : naija247news.com