Kenyan coffee chain Java House plans to open outlets across Africa
Posted on : Tuesday , 20th October 2015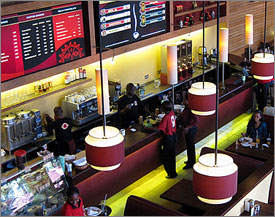 Kenya's Java House has 36 coffee houses and restaurants and plans to open outlets across Africa in the next five years to capitalise on rising consumer spending, its chief executive said.
Kevin Ashley, who founded Java's first outlet in Nairobi in 1999, said the company would open in Kigali, Dar es Salaam, Lagos, Accra and Lusaka. For now, the firm's only outlets beyond Kenya are in Uganda's capital Kampala.
"We see in five years time we are going to be having a major presence in most of the major urban centers of Africa," he told Reuters at his office over one of his Java outlets, which offer coffees, teas and a menu of international food.
Source : www.africanbusinesscentral.com