Mega Fertilizer Plant in Nigeria set to be constructed
Posted on : Friday , 16th October 2015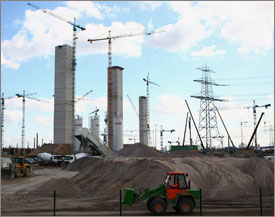 HOMAG International Merchant is set to construct a mega fertilizer plant in Nigeria worth $1.2 billion in Kogi State.
The firm representative Adedayo Adeogi said that they will work hand in hand with the Kogi government to ensure that the project get completed on time. He said this while leading a delegation from Kogo state.
Adeogi added that the mega project will be executed on the basis of Build Operate Transfer so that it can have the capability of producing up to 400 tonnes of fertilizer per day.
He also said that their decision to choose Kogi as the ideal site for the construction of the mega fertilizer plant in Nigeria was informed by its enormous agricultural activities. The representative said that the fertilizer plant would provide 215 direct jobs, 1,200 support services personnel and create over 4,000 jobs during its plants construction, installation and per-commissioning.
Expressing his confidence that the project will be of great benefits to Kogi residents, State Governor Idris Wada said that the state is ready to work HOMAG International Merchant to ensure that the project is completed on time.
Wada, who was represented by his deputy, Yomi Awoniyi, said the present administration has signed over 42 memorandum of understanding within the past three years.
Source : constructionreviewonline.com