Unilever constructs first ever ice-cream factory in South Africa
Posted on : Wednesday , 14th October 2015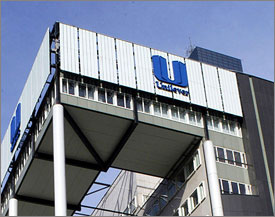 Multinational goods firm Unilever has opened doors to its first ever ice-cream factory in south Africa. The construction of the factory is said to have cost US $44.36m.
Situated in a sprawling, five-phase industrial and logistics park- Midrand's Lords View Industrial Park, the ice-cream factory marks the first of its kind in African soil by Unilever.
The ice-cream factory in south Africa is one of the 40 Unilever ice-cream factories around the world. It sets new standards in green manufacturing and low-cost manufacturing. The ice-cream factory uses smart technology to harvest rain water, as well as recovers and reuses water utilised in its production processes.
South African Trade and Industry Minister, Dr Rob Davies, who attended the launch said that the factory was a sigh of relief to the fluctuating South African economy.
Aside from the production of Ola products such as Rich 'n Creamy, Cornetto, Gino Ginelli, addelpop and Fruttare, the factory will also produce chic ice cream in the Unilever's portfolio, Magnum.
Unilever had proven its confidence in South Africa and Africa as a whole through investment of close to US $0.30bn in construction of new factories and refurbishment of manufacturing facilities in the country.
The ice-cream factory was supported by the Department of Trade and Industry's (DTI's) 12-i Tax Allowance Incentive scheme, which supports Greenfield investments (new industrial projects that use only new and unused manufacturing assets) and other projects that benefit the planet.
This facility compliments a similar factory that is being constructed in Turkey and China for improved innovations for Unilever and its customers.
During the construction period, 150 people from the Lords View Industrial Park community got employment while at the moment another 150 skilled persons and 50 contract workers have been employed.
Source : constructionreviewonline.com