Dow Chemical seeks to triple Africa revenue in five years
Posted on : Tuesday , 13th October 2015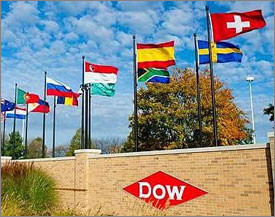 Dow Chemical Co plans to triple its revenue from sub-Saharan Africa in the next five years and is investing in offices, local staff and manufacturing plants on the continent to meet that target, its head of the region said.
The company sees opportunities in agriculture, where it supplies crop protection chemicals, infrastructure, where it offers water treatment chemicals, as well as in mining and manufacturing.
"Dow is absolutely betting on Africa's growth." - Ross McLean, President, Dow Chemical Sub-Saharan Africa
"We expect to triple our revenue from Africa over the next five years. That is our objective and we are on track to do that," said Ross McLean, President for sub-Saharan Africa.
"Dow is absolutely betting on Africa's growth," McLean added.
Dow, whose group sales reached $12.9 billion in the second quarter, has opened hub offices in Kenya, to serve East Africa, and another in Ghana, serving West Africa. It is also opening offices in Ethiopia, Nigeria and Angola, as well as in other markets.
"We are here for the long term and we are not scared by the bumps in the road. Africa is a place where you have to be pretty resilient and determined," he said.
Source : www.africanbusinesscentral.com