Newly constructed Weetabix East Africa plant in Kenya opened
Posted on : Tuesday , 13th October 2015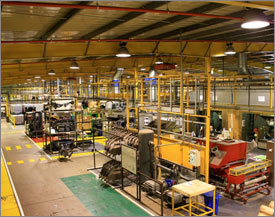 The Newly constructed Weetabix East Africa plant in Kenya has been opened in the capital Nairobi. The move is aimed at increasing production capacity as well as enhancing efficiency.
The new plant which cost US$ 2.5m has the potential of generating up to 60 per cent of the company's produce.
Managing director Mr. Ahsan Manji launched the new plant while marking the company's 40th anniversary in Kenya.
"The recently unveiled capacity upgrade project was completed at a value of US$ 2.5m. It involved new plant equipment - giving us 60 per cent more capacity, automation of some sections of the plant and a new office wing. Furthermore, we have also installed a 1,000 tonne wheat silo that will improve our productivity," said Mr. Manji.
He added that the opening of Newly constructed Weetabix East Africa plant in Kenya was informed by demand for cereals in East Africa having shoot to 8.5 million kilogrammes a day.
"Over the past 40 years, the Weetabix brand has come not only to be loved and trusted by consumers in this region, but has also shaped the breakfast occasion to one that is healthy and nutritious, across diverse age cohorts and socio-economic classes. We are hugely passionate about breakfast and are working hard to ensure that we remain at the forefront of innovation within the category. For us to keep winning, we must keep up with ever-changing consumer needs," said Mr. Manji.
They manufacture Weetabix minis, Weetos, Fruit and Fibre, Branflakes and Oatibix.
Weetabix East Africa Ltd is a fully-owned subsidiary of the UK's Weetabix Cereal Company. The East African unit currently supplies the Kenyan market, Tanzania, Uganda, Rwanda, South Sudan and Burundi. They plan to enter other regional markets soon.
Source : constructionreviewonline.com