Singaporean woman sets up Rwanda's first modern poultry farm
Posted on : Monday , 12th October 2015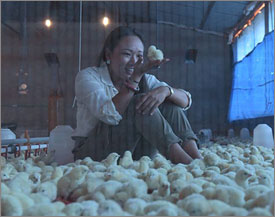 While there are about 200,000 Singaporeans living and working abroad, few would have considered making their mark in Rwanda. We speak to Lam Shumei, who set up the largest modern poultry farm in the East African Nation.
SINGAPORE: Growing up, her family called her a chicken without feathers because of her tiny frame. Now, Lam Shumei (full disclosure, this writer's sister) is known as "Madame Poulet du Singapur" - the "Chicken Madam from Singapore" - because she is the biggest chicken farmer in Rwanda.
"When I meet people in Singapore and I say I have a chicken farm in Rwanda, their response is, 'Chicken farmer? Rwanda?'" she said, adding that most people back home know little about the East African nation apart from the genocide in 1994.
Thankfully, Rwanda has moved on from its violent past. According to the Global Law and Order 2015 report, the country is now the safest African country to live in.
CHICKEN MEAT TOO EXPENSIVE
Ms Lam was first introduced to Rwanda in 2011 while on a business trip to some African countries. She was surprised to find that chicken meat was the most expensive meat in the market, selling at over 3000RWF (S$5.60) per kilogramme, more than what most Rwandans could afford to have regularly.
"A large part of the economy is still driven by subsistence farming. A lot of things have to be imported because the country is relatively new," she said. Poultry meat was being imported from as far away as Europe, and the lack of modern farming techniques locally have driven up the cost of production.
The following year she returned to set up a social enterprise, Poultry East Africa Ltd (PEAL), with the aim of providing affordable meat proteins to the nation. Rwanda still struggles with food security despite steady economic progress in the last two decades.
"The average Rwandan only eats meat once a week and typically it's your goat or beef. So chicken was a luxury meat. Those in the local villages could only afford to have their local 'Kampong' chicken once a year," she said.
RWANDA'S FIRST MODERN POULTRY FARM
PEAL is the first company to be running a modern chicken farm in Rwanda, and has the capability to output 8 tonnes of poultry meat every week.
"Farming is all about economies of scale. You have the same fixed cost, same fixed overheads which is shared over the number of chickens you produce," Ms Lam said.
The farm is equipped with an automated feedmill, 4 semi-automated chicken houses with capacity to double, and a 400 bird-per-hour processing plant.
"We are looking at actually increasing our production capacity because we do not have sufficient supply for the markets," Ms Lam said.
The farm began operations in December 2014, and within less than a year, the company has brought down the price of poultry meat by over 30 per cent.
"I believe that we have successfully entered the market to bring down the price of poultry meat, so more and more people are able to afford poultry chicken meat on a daily basis," Ms Lam said.
MAKING A SOCIAL IMPACT
More than just a business, one of the main objectives of the project has been its social impact.
"Before we set up the farm in this area, the farm was pretty much bush land. We believe that we created a local economy by having a project here because more industries and houses are starting to pop up in our vicinity," she said.
The project has helped generate employment in the Bugesera district, a 40 minute drive from Kigali, Rwanda's capital city. At the moment, the farm employs 60 people who are mostly from the surrounding villages.
"WOW, I'M A CHICKEN FARMER"
But the journey has not been without its challenges. "Utilities are a day to day problem. The power goes off five times a day especially during the dry season. Water is also scarce," said Ms Lam.
Finding the right people for the job was also one of the initial challenges because modern poultry farming was a new concept in the country. "Teaching them managerial skills, following systems, generating reports are all very important parts of farming because it's a process," Ms Lam said.
"It's very easy to get caught up in the day to day frustrations and challenges, but sometimes I have surreal moments where I realise wow, I'm a chicken farmer and providing opportunities for many people. It's a really good feeling," she said.
Source : www.channelnewsasia.com