Chinese firm to set up fish processing plant in Kenya
Posted on : Wednesday , 7th October 2015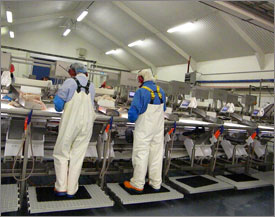 A Chinese company has signed an agreement with a Kenyan regional government to set up a fish processing plant at the cost of US$9mn
China's Beijing Xidan Company Limited will build an ultra-modern fish processing plant in Naivasha in the Nakuru country, about 120 km northwest of Nairobi. Kinuthia Mbugua, governor of Nakuru county, said that the presence of a modern processing plant in the region would help bolster commercial fish farming in the area.
Expressing his joy over the Chinese firm's interest in setting up the plant and the signing of the MoU, Mbugua was optimistic that the plant could promote the fishing sector in the county, as well as increase fishermen's income.
Yang Bo, the representative from Beijing Xidan Company Limited, said that US$9mn would be spent in putting up the plant. Construction is expected to begin in early 2016, after land has been acquired and environmental and physical assessments have been undertaken this year.
"The processing plant could contribute to the county's social and economic growth. It will create employment and earn the county revenue in form of cess," Yang said.
He added that upon completion, the plant is likely to employ about 400 local people and generate annual revenues of about US$30,000 for the county.
More than half a million people depend on fishing and related activities in the area around Lake Naivasha, with about 100,000 people directly involved in fishing itself. Catch from the lake is sold both locally and regionally.
Source : www.africanfarming.net