Uganda to get agriculture assistance from FAO and China
Posted on : Thursday , 1st October 2015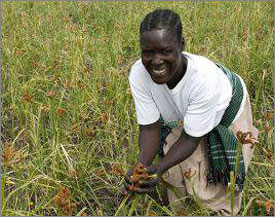 FAO, China and Uganda have signed a two year agreement worth almost US$2.5mn to support small-scale farmers in Uganda
The agreement marks the second phase of a partnership that was established in 2012 to make training and technical advice available to the Ugandan agriculture sector. It will help farmers in the African country boost their production and promote the use of sustainable technologies.
Priority areas for the second phase of the project include developing crop, horticultural, livestock and aquaculture production, as well as introducing new technologies including renewable energy, agromachinery and improved water harvesting and irrigation methods. About 4,000 farmers will be trained in a wide range of areas such as cereals, horticulture, aquaculture and livestock by experts located in five hubs across Uganda. Based in the districts of Kabale, Budaka, Mbarara, Amuria and Wakiso, their activities are expected to benefit the entire country and to contributing towards the development of sustainable business models.
To date, Chinese experts offering guidance to local communities in Uganda have helped transfer 25 new farming technologies and introduced 17 new crop varieties such as hybrid rice, foxtail millet and maize, and have also provided invaluable agricultural equipment and tools. The addition of new technologies, varieties and training practices has shown good results with improved crop yields which have increased the incomes of smallholder farmers.
The agreement was developed in the context of the FAO-China South-South Cooperation (SSC) programme, which was established in 2009. The programme received additional funding from China earlier this year. SSC projects help developing countries share knowledge and expertise so that all countries can benefit from innovations and good practices that have been tried and tested in countries facing similar conditions and challenges.
Source : www.africanfarming.net