MPS Unveils EF Neo Flexo Press
Posted on : Tuesday , 29th September 2015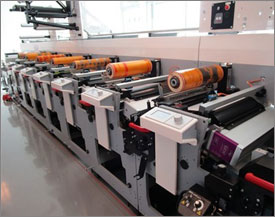 The new generation EF flexo press is built with the standard EF platform, but with a fresh and more modern design. The press is enhanced with new software with close loop print pressure setting solutions and an improved operator interface.
The next generation iControl, a new operator interface menu including restyled buttons and icons, and a larger touch screen control panel, bring a more user-friendly functionality that simplifies press navigation and control.
Bert van den Brink, technical director of MPS commented, 'This press re-design reflects MPS's focus on the operator. Regardless of their skill level, our user-friendly press technology enables them to maximise productivity and deliver the best printing results.'
MPS' new automated Quick-Change die unit is a fast and easy switch from square to round labels, without the need to stop the press to change the die-cylinder as the new die-station is equipped with two slots. The change-over is completed through an automatic switch of the impression roller to the vacant slot. With this feature, die-cutting jobs can be prepared during production, and with additional MPS automation packages the die-settings can be recalled out of job memory for even faster job changeovers.
Source : www.africaprint.com