Antalis Partners With Sappi To Distribute Atelier Folding Box Board
Posted on : Tuesday , 29th September 2015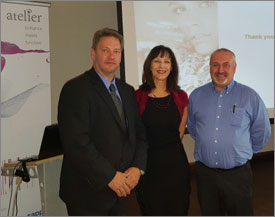 Antalis will distribute Sappi's Atelier Folding Box Board (FBB). This announcement was made at recently held launches in Johannesburg, Cape Town and Durban.
Michael Rushworth, Product Manager, Antalis, who welcomed the guests at the launches, said Antalis is thrilled to partner with Sappi on Atelier. 'Sappi and Antalis have a long history of partnering on particular products, such as Magno and Masuga. With Atelier we believe that we have a grade that will become the benchmark for FBB's in South Africa. The grade fits exceptionally well into our offering of cost effective, quality products.'
Atelier is a GC1 FBB with high bulk, an ultra silky smooth coating and a really white reverse side, with a lick of coating. Atelier is available from 220gsm to 350gsm, with a bulk 1.72. This allows you to reduce grammage without sacrificing stiffness and thickness. 'Sappi have shown that they are no longer just an art paper manufacturer, but that they have grown into a first rate packaging board producer,' said Rushworth. 'While there are other products that play in the same field as Atelier, it's quality and yield, makes it unique and competitive.'
He added that Antalis also undertook their own trials and market research with their clients. 'Our trials determined that the paper produces an exceptional print quality and run-nability, with great rigidity and foldability. We have no doubt that this board will set the standard for excellence in this market. There is no doubt that this product will add a perception of quality to any packaging or graphical board print job.
As Lars Scheidwieler, Product Group manager for Rigid Packaging at Sappi, stated in his presentation, this multi-ply board supplies ultimate brightness, purity and class. This product was his brain child and this was reflected in the passion he showed when presenting the product. Atelier took three years of research and development to ensure it met market requirements. It is produced at Sappi's Maastricht Mill, Netherlands.
As can be deduced from its name, which means workshop or studio, especially for artists and designers, the product is a convergence of ideals and craftsmanship. Antalis and Sappi have a history of bringing innovative and creative products to the South African market and Atelier is yet another example of this. Antalis will stock Atelier and they will be promoting the grade for both Packaging and Graphical uses.
Atelier can be used for packaging of beauty products, pharmaceuticals, confectionery, luxury foods and drinks, toys and almost any other application on carton work you can think of. Not only will it enhance your packaging, but Atelier can be used for point of sale material, folders, book covers, promotions, business cards, shopping bags and so much more.
Source : www.africaprint.com