Somaliland's fishing sector gets new ice plant
Posted on : Monday , 28th September 2015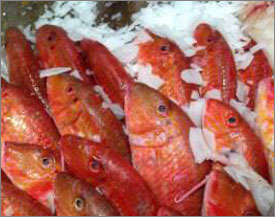 An ice plant is helping develop Somaliland's indigenous fishing sector by allowing fishermen to sell their catch in markets around the country
The plant is based in Berbera in northwestern Somaliland, and is owned and operated by Pontus Marine. It first began production two months ago and is operating at full capacity now. It produces flake ice which is compacted into blocks for use on fishing vessels. The ice stores considerably longer in this form and can then be cracked to produce flake ice which is efficient at cooling the catch quickly and ensuring it is kept in good condition.
This ice will be used mainly by vessels that target pelagic fish such as tuna and kingfish. Once ashore, the catch will be washed and sorted at the Pontus handling facility in Berbera before being sent to markets throughout Somaliland.
With the ice plant now working at full capacity, the next phase will involve the development of a fully functional primary processing facility that will enable Pontus Marine develop new overseas markets for fresh fish from Somaliland.
The ice plant is part of multi-phase company development advised by consultant MacAlister Elliott & Partners Ltd (MEP) to boost Somaliland's fishery sector.
Stephen Akester of MEP said, "Rather than doing every aspect of the company development plan in one fell swoop, the investors have adopted a phased approach where we resolve any inevitable teething problems one step at a time before moving to the next phase."
Source : www.africanfarming.net