Three new cab tractors from Massey Ferguson
Posted on : Tuesday , 22nd September 2015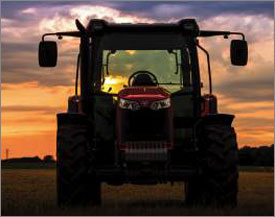 AGCO brand Massey Ferguson has launched three new cab tractor models in its MF 4700 series
The 75 hp, 85 hp and 95 hp standard farm tractors are the first completely new tractors that the company has developed in recent times, and they have been designed to meet a wide range of requirements.
The company has designed a completely new cab specifically for the MF 4700 series tractors. Full glass doors, a large front screen and curved quarter windows provide all-round visibility. There is also an opening rear window and the option of a Visio roof to improve visibility when operating with a loader.
The tractors are equipped with four-wheel drive. The dashboard has a mix of digital and analogue displays and a screen in the centre is used for simple fault diagnostics. The console also has a range of socket types to power implement terminals and screens. There is also a diagnostic socket that allows technicians to connect into the tractor's CANbus.
The MF 4700 series is powered by a 3.3 litre three cylinder engine that provides a maximum of 75 hp on the MF 4707, 85 hp on MF 4708 and 95 hp on the MF 4709. Modern common rail fuel injection helps to generate power while reducing fuel consumption, noise and engine wear. The 82 litre capacity fuel tank is enough for eight to ten working hours.
Massey Ferguson has developed a new 12x12 speed synchromesh gearbox for the MF 4700 series tractors, specifically designed to provide efficient and straightforward operation in field, on the road and for loader work. There is also a new, specially developed dual circuit hydraulic system to ensure that there is always sufficient flow for continuous operations.
Six main gears provide field operation in low range and transport or higher speed field-work in the high range. There are eight gears in the main 4 kmph to 12kmph field working range, which coupled with the high torque at low engine rpm, reduces the need to change gears.
Source : www.africanfarming.net